Latest from the Blog
By Joan Martinez Alier. The Colombian attorney Sandra Morelli, a woman with a strong personality, is a member of the Colombian establishment. Since September 2014, she doesn't know whether she's living a …
By Aaron Vansintjan. Philippe* is the truck driver of a food bank in Montréal, Canada. Twice a week he drives to the headquarters of Moisson Montréal, the largest food bank …
EJOLT News
Opportunities for European policy makers towards Environmental Justice2-3 March 2015 – Brussels REGISTER HERE. HEARING ON "ENVIRONMENTAL JUSTICE" 2 March 2015, 12:30-15:30Venue: European Parliament Room A1G-2, Bât. Altiero Spinelli, 60 rue Wiertz, …
Success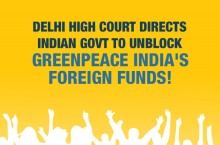 Delhi HC orders release of Greenpeace foreign funds
Good news! Today, the Delhi High Court sided with Greenpeace India over the government. A judge said that Greenpeace CAN receive blocked foreign funds! In June 2014, following the leaked Intelligence Bureau reports, the government arbitrarily barred their foreign funding. This ruling not only vindicates Greenpeace but also recognizes the rights of Indian people and environment.
Resources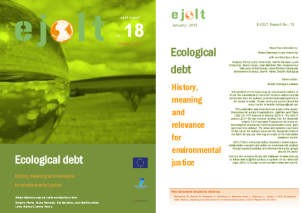 Ejolt report 18: Ecological debt. History, meaning and relevance for environmental justice
EJOLT Report 18: Ecological debt. History, meaning and relevance for environmental justice
The report can be downloaded here
Abstract
The ecological debt concept emerged in the early 1990s from within social movements driven by rising environmental awareness, emerging consciousness of Western responsibility for past colonial subjugations, and a general sense of injustice during the third world debt crisis. First developed organically, mainly in locally-scaled, civil contexts, ecological debt has since gained attention in academia and international environmental negotiations.

The concept of ecological debt requires further elucidation and elaboration, especially in light of its historical interconnection with environmental justice. In this paper, the development of the concept of ecological debt in both activist and academic circles is described, theoretical building blocks for its operationalisation are discussed and three brief cases illustrating its recent utilisation are presented. Drawing on these building blocks, the concept of ecological debt has been used as a biophysical measure, a legal instrument and a distributional principle. In theory and in practice, it has much to offer to the global environmental justice movement. We conclude by reflecting on some of the pros and cons of the ecological debt concept as a tool to be used in fulfilling some of the goals of environmental justice movements in the world today.
The EJOLT project (2011-15) has received funding from the European Union's Seventh Framework Programme for research, technological development and demonstration under grant agreement no 266642. The views and opinions expressed in the website and in all EJOLT publications and documentaries including the Atlas reflect the authors' view and the European Union is not liable for any use that may be made of the information contained therein.
---